What difference between lace front wig and full lace wig?
Wigs have become a trend recently, with a variety of hairstyles on market for lace frontal wigs and full lace wigs. Are you addicted to wearing human hair wigs Do you know the difference between a lace frontal wig and a full lace wig? If you are a wig enthusiast or someone interested in a wig, you need to know information so that you can choose the right wig for future purchases.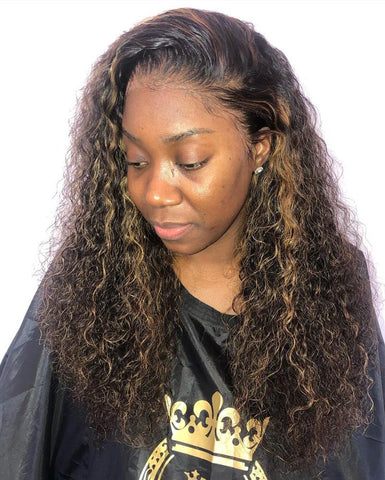 What is lace frontal wig?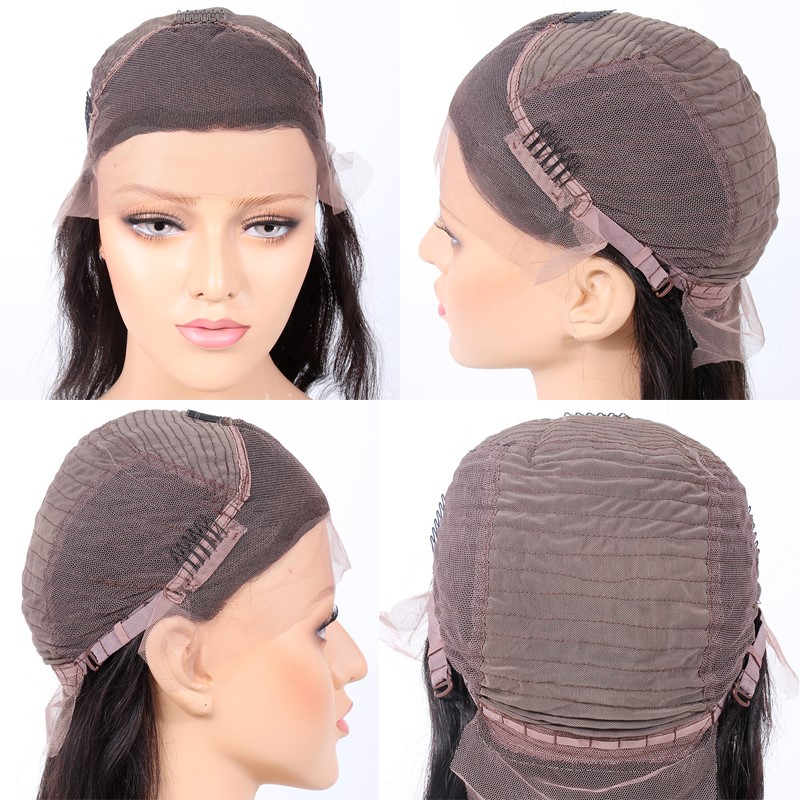 Lace frontal wigs are highly sought-after wigs that feature a delicate, sheer lace panel along the front hairline, securely attached to the front portion of the wig. The individual hair strands are meticulously sewn by hand into the tiny holes of the lace. The versatility and ease of wearing lace front wigs make them a preferred choice among many individuals, as they provide a seamless and natural-looking hairstyle that effortlessly covers the entire scalp area.
These wigs are particularly favored for their ability to create a remarkably realistic hairline, even when worn. The lace frontal wig blends seamlessly with your natural hairline, giving the appearance of hair growing directly from the scalp. This undetectable effect contributes to the widespread popularity of lace frontal wigs.
Pros and Cons of Lace Frontal Wigs:

Pros:

1. Natural Appearance:
Lace frontals provide a seamless hairline, giving the illusion of a natural hairline. When properly plucked and styled, the baby hairs contribute to an authentic look.

2. Affordable Option:
Compared to full lace wigs, lace frontals are generally more budget-friendly, making them a cost-effective choice for many customers.

3. Versatility:
Lace frontals offer a range of styling options. While not as versatile as full lace wigs, they still provide flexibility in creating various hairstyles.

4. Easy to Wear:
With the availability of instructional videos on platforms like YouTube, even beginners can easily learn to properly wear and remove lace frontals.

Cons:

1. Limited Styling Options:
Unlike full lace wigs, lace frontals restrict certain hairstyles like ponytails as they are only designed for the front portion of the head.

2. Potential Slippage:
Lace frontals may slip or slide if not securely attached with adhesive or tape, which can be a drawback compared to the more secure fit of full lace wigs.

3. Scalp and Hair Damage:
Improper maintenance of lace frontals can lead to damage to the scalp and hair, emphasizing the importance of proper care and upkeep.

Explanation of Full Lace Wigs:

A full lace wig is a popular type of lace wig constructed with a lace cap that covers the entire head, with 100% human hair hand-knotted into it. Full lace wigs allow for versatile parting and styling options, including wearing the hair up without revealing the wig. These wigs are entirely handcrafted, providing breathability and a lightweight feel. Additionally, they offer a realistic appearance with hair growth along the scalp.

Pros and Cons of Full Lace Wigs:

Pros:

1. Versatility:
Full lace wigs allow for unlimited parting and styling possibilities, offering greater versatility compared to lace front wigs.

2. Natural Look:
The lace construction throughout the wig permits wearing it in a high ponytail, achieving a more natural appearance than with a lace front wig.

3. Breathability:
Being made of lace ensures proper ventilation for the scalp, allowing natural hair to grow healthily.

Cons:

The main drawback of full lace wigs is their higher cost compared to other wig options.
what is the difference? Full lace front wig vs lace frontal wig.
| | | |
| --- | --- | --- |
| wig | Lace Frontal Wig | full lace wig |
| Material Used For The Base | Lace frontal wigs use a sheer lace base for the front portion of the wig. The rest of the base is made of a thicker but still comfortable material. | Come with a base that is made entirely of lace. |
| Styles | Lace frontal wigs look very natural because the lace is almost invisible. Hair can be separated in the middle or on the sides. Similarly, lace front wigs are attached to the head with an adhesive on the hairline above your forehead. | Full lace wigs are more versatile because you can also style them into up-dos, braids, and many other hairstyles, while lace front wigs(such as high ponytails)are less suitable.    |
| Natural look | Lace frontal wigs that are only attached at the front edges of your head. | It is best to wear a wig cap, especially when installing a full lace wig since it will be covering your entire head. |
| Durability | With proper care, they can last upward of six months to a year. | full lace wigs can use longer than lace front wigs. It is recommended to buy the proper wigs and take care of them.  |
| Price | Cheap and affordable price | Have a base that is made fully of lace, unlike the lace front wig. This means full lace wigs are a bit more versatile than a lace front wig because they can be worn in different hairstyles. This puts full lace wigs at a higher price point than a lace front wig as well. |
Leave a comment